Mitzpah : Lonesome Harvest
Re-enactment N°1 : Paris 1981
Hervé Zénouda (Stinky Toys) & Gregor Davidow (Spions) were a transient duo in Paris during the brief summer of 1981. They formed by chemical attraction with no particular concept or ambition behind it. They wrote melancholic songs of tainted love in accordance with the cold waves of the season, with just a hint of power pop invoking the blasphemous beauty of the impending doom.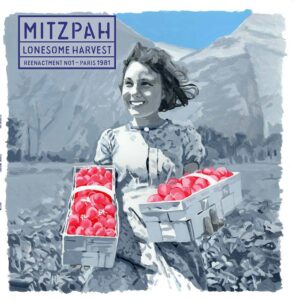 They called their project 'Mitzpah' (a portmanteau of the hebrew words "mitzvah" and "chutzpah") in reflection of their diverse characters combined for the mystic occasion, where the former stood for the mature innocence of the devoted beginner and the latter for the shady arrogance of an illegal alien. Their work affair was an epitome of organized accidents. Some of those afternoon sessions were later recorded, others remained in the vault of their composer's forgotten treasures. Digging them up forty years after is an act of grey magick. A test of resuscitation in the face of time frozen over the land of the fallen. A feat of treason to the law of continuity.
With :
– Jean-Paul Beirieu : drums (Penal servitude, Notre Dame, Pardon, Andy Warhol, Seven trumpet)
– Michelle
C.
: executive production
– Ismael
Galvez
:  trumpet (Notre dame, Eden, Length of life, Lost shepherd)
– Vincent Guibert : sound
engineer
(Penal servitude, Notre Dame, Pardon, Andy Warhol, Seven trumpet), keyboards (Andy Warhol, Notre Dame)
– Rim Ha : female voice (Eden, The lost shepherd, Notre dame, Andy Warhol)
– Patrick Loiseau : basse (Penal servitude, Notre Dame, Pardon, Andy Warhol, Seven trumpet)
– Nico Morcelli : noisy guitares (Seven trumpet,  Length of life, Seven trumpet)
– Alain Petit : violin (Andy Warhol,  Notre dame, Eden)
– Loulou Picasso : art work
– Christophe Rosenberg: saxophone (Penal servitude, Pardon, Andy Warhol, Length of life)
– Pierre Sojdrug : executive production
–  Gabor Szitanyi : Photos
– Stanislas Jankowiak : male voice  (Andy Warhol, Pardon, Notre Dame, Seven trumpet, Penal servitude)
– Gregor Davidow : lead vocal, texts, music (Sysyphus)
– Yann Le ker : guitares, keyboards, basse, male voice, sound
engineer,
artistic production, digital mastering
– Hervé Zénouda : music (except Sysyphus), musical direction, musical arrangements, executive production
Mixage : Yann Le ker / Hervé Zénouda
Thanks to Gina Bianca and Guillaume Loizillon
Specials thanks to Yann Le ker and Pierre Sojdrug
@Pop Superette 2022
IN MEMORIAM
OF
 CLAUDE ARTO  & SIR DAVID O'CLOCK
Extraits Mitzpah : Lonesome Harvest